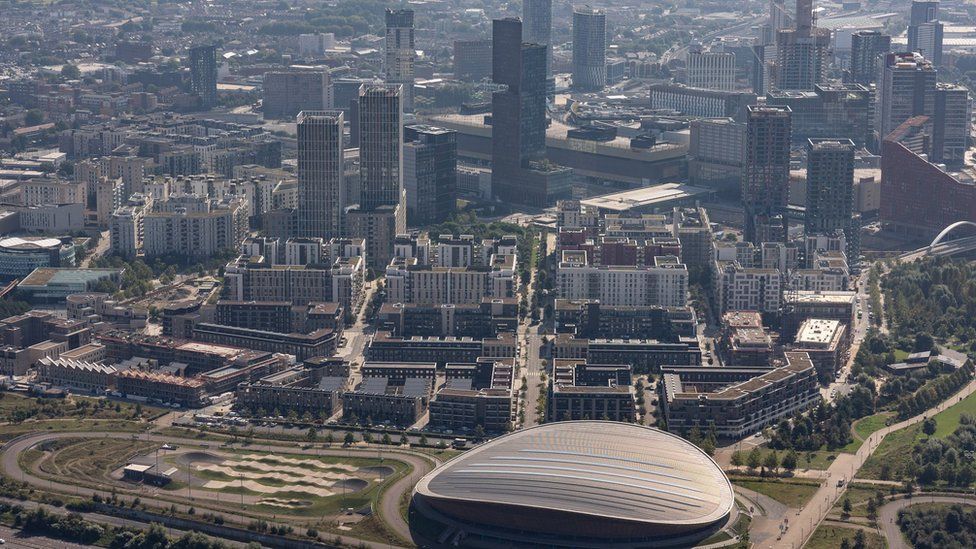 The provision of affordable housing in some of the poorest parts of London after the 2012 Olympics has fallen far short of pledges made, the BBC has found.
There was a promise to regenerate areas of east London for the "direct benefit" of residents - a key feature in the capital's bid to host the Games.
Originally, 9,000 homes were to be built on the former Olympic Park, half of them affordable for local people.
But fewer than 200 new homes built are offered at the cheapest levels of rent.
A decade on from the Games, which cost £9bn to host, about 1,200 homes have been built on the site, most of which, it is claimed, are unattainable for many people in the area.
The planning authority responsible for development on the Queen Elizabeth Olympic Park and surrounding areas, the London Legacy Development Corporation (LLDC), said affordable housing targets had changed with different mayoralties. It also said many political decisions on housing provision in the area pre-dated its formation.
The promises have "melted away", said Nick Sharman, who until recently sat on the LLDC's planning committee. "They have been betrayed, no question about it."
In 2005, "the deal was very clear" when London's first directly elected mayor Ken Livingstone championed the Olympics coming to the capital, said Mr Sharman, who was at the time in charge of regeneration at the London Development Agency.
"He [Mr Livingstone] said: 'This is going to be the regeneration Olympics' - in other words, it's going to have a real legacy for the people of east London."
The official bid to host the Games, which was led by London 2012 chair Lord Coe, said that "the most enduring legacy of the Olympics will be the regeneration of an entire community for the direct benefit of everyone who lives there".
At the time, the area had some of the most deprived council wards in England.
At the heart of Mr Livingstone's legacy pledge was that 50% of any housing built would be affordable, said Mr Sharman.
Mr Sharman added that it was "those commitments that really inspired the enthusiasm, I think, of the Olympic Committee, but certainly the wider population".
Mr Livingstone told the BBC that had he not lost the London mayoralty to Boris Johnson, he would have ensured the 50% affordable housing pledge was kept.
Ten years after the Games, the former Olympic Park in Stratford and its surroundings are the focus of a vast regeneration programme, led by the LLDC.
"Instead of being the diverse community that Ken Livingstone promised, a model of social inclusion, we're getting the exact reverse," said Mr Sharman.
On the Queen Elizabeth Olympic Park, where many of the events were held in 2012, just under 1,200 homes have been built. Only 37% of these are officially classed as affordable, rather than the promised 50%.
Chobham Manor, a development of 880 homes next to the Lee Valley Velo Park, is an "incredible new neighbourhood", according to developer Taylor Wimpey.
It includes 169 social and affordable rent (low-cost) homes. However, a third of units classed as affordable are offered as shared-ownership properties. This is a scheme that aims to make it "possible for first-time buyers and families to get on to the property ladder", according to the housing association managing the homes.
Recently, 25% shares in two and three-bedroom flats were advertised. These homes required a minimum income of £69,000 a year to buy - well over twice the £29,000 median annual salary for residents of Newham.
Of the homes currently on the park under the banner of "affordable", 57% are "intermediate" - either offered as shared ownership, or for rent at about 75% of the market rate.
However, according to masterplan for the park in 2011, only 40% of the affordable housing stock should have been intermediate, while 60% was supposed to have been made up of social or low-cost rental homes.
It's "gentrification", says Rudy Smith, who has spent much of her life in Newham. She and her three-year-old son are among the 33,000 households on the council's housing list.
"It looks like we're generating wealth, helping the community, but actually you're not helping the community.
"It's a façade," added Ms Smith, who with her son is among about 5,700 families that have been placed in temporary accommodation by Newham Council.
They live in a "tiny" flat in which they share a bed, she said.
"It's not even suitable for me if I was a single person, let alone as someone with a child."
Rudy says she is worried the council might only be able to offer her a permanent home away from the area.
"I know someone personally, they've had to move to Clacton-on-Sea. Her family is in Newham and partly in Hackney. She's the only one down there in Clacton-on-Sea, you know, so it's a reality for some people and I hope it doesn't have to be an actual reality for me."
Like Ms Smith, Godfrey Muhoozi, a father of two from Stratford, cannot afford to rent a home privately. He says he has been on Newham Council's housing list for four years.
"It's a nightmare," he said. His family currently lives in a two-bedroom flat, with his teenage daughter and teenage son sharing a bedroom.
"It's not good, them being the age they are, especially for my daughter.
"I thought about trying to set up a partition in the room so they have some privacy, but even that is very expensive and I can't afford it."
Mr Muhoozi and Ms Smith are among 70,000 people on council housing lists across the four hosting boroughs of the 2012 Olympics - Newham, Tower Hamlets, Hackney and Waltham Forest.
"It is really quite shocking," according to academic and east London housing expert Dr Penny Bernstock. She has interviewed families living in "terrible" conditions near the Queen Elizabeth Olympic Park.
"It's the most extreme housing misery you can imagine - you know, people living in damp, miserable accommodation with a lack of light; children moving multiple times."
It was addressing the "misery" of historically impoverished east London that was central to the Olympic bid, Dr Bernstock said.
"We have built mainly market housing in an area of acute housing need. This is particularly problematic, given that addressing deprivation, including housing deprivation, was a key dimension of London's bid."
The concept of affordable housing on the former Olympic Park was always "slippery" in any case, according to Dr Bernstock.
"We're building too many intermediate units and not enough social rented units. And so the people that are going to benefit are not going to be the average people living in the area, they're going to be wealthier people from outside."
Dr Bernstock, who is from east London, said the former Olympic Park now has parallels with Canary Wharf, a financial and residential district in the historically deprived borough of Tower Hamlets.
"You've got this wealth in the middle and you've got the poverty around, and that poverty scenario has not changed," she said.
However, Dr Bernstock added that she believed there had been some recent improvements in terms of affordable housing provision on the park.
The LLDC said all such homes on the Queen Elizabeth Olympic Park had so far gone to local people.
By 2035, a total of 5,426 homes are scheduled to have been built on the former Olympic Park, according to the LLDC, rather than the 9,000 originally proposed.
The residential ambitions were altered 2014, when plans were made for the East Bank quarter. This will see branches of the V&A museum, Sadler's Wells theatre, the BBC and the London College of Fashion arrive in Stratford in the coming years. The LLDC said it believed this would be of more long-term benefit to the area than additional homes.
However, according to Dr Bernstock, this approach "compromised" any affordable housing plans.
Instead of the 2,600 homes originally planned for one site on the park, 600 homes will be built, and the Stratford Waterfront development will consist only of shared-ownership flats.
"This is 0% affordable housing," said Dr Bernstock. A formal legal agreement on such housing as part of the legacy of the 2012 Olympics should have been made before the Games, she added.
When all the housing schemes on the park have been completed, 40% will be classed as affordable, including a mixture of tenures, the LLDC said.
The planning authority, set up by Boris Johnson when he was London's mayor to develop the area post-Olympics, has overseen the construction of about 11,500 new homes since 2012, including those in the park itself. Despite 2012 City Hall guidance that 40% of legacy homes should be affordable, the LLDC said only 24% of them were, with 12% being categorised as low-cost.
The legacy scheme to deliver the most social housing so far is the East Village in Stratford.
Triathlon Homes manages 675 social homes on the site, which originally housed Olympic athletes and was later converted into flats. A further 48 social homes are under construction there.
While this is welcomed, it should however be balanced against the previous loss of low-cost housing in the area, according to Dr Piero Corcillo, an urban regeneration expert at Birkbeck University, who completed a PhD on social mixing at East Village.
"We also need to consider that in order to build the Olympic Park, a social housing estate, the Clays Lane Estate, was demolished and that provided 425 housing units," he said.
Of the 3,800 homes on the site, the majority are offered at market-rate rent by property company Get Living, which says it "looks to respond to the acute need for new homes in central London".
Two-bedroom flats in the East Village can be rented out for upwards of £2,300 a month.
Built with public money, the site was to have been 50% affordable housing, according to plans drawn up several years before the Games.
"This hasn't been delivered," said Dr Corcillo, who added that "there's no mechanism to bring decision-makers to account".
The development is not socially inclusive, he said, and is instead "definitely geared towards the middle classes, and the better-off fraction of the working class".
When the East Village development is complete, 30% of the homes will be affordable, according to Get Living, which says it has fulfilled its affordable housing obligations.
Elsewhere, large developments have sprung up in parts of Stratford such as Chobham Farm, as well as in Hackney Wick, Fish Island and Bromley-by-Bow.
Mr Sharman, who was until recently a Hackney councillor, said he believed his area had been transformed into a "middle-class barracks".
Many of the new homes are attracting affluent couples from outside the area, he said, adding: "When they start having more than one child, almost certainly they will move out.
"I think what comes hardest is that we put so much money into the Olympics, made it a great Games, a fantastically inclusive Games; the legacy of that money has been simply to benefit this narrow band of people. And it didn't have to be that way."
Mr Sharman believes what has happened is a "microcosm" of a wider housing problem in the capital: "The London housing market is not catering for Londoners."
The LLDC has to cope with a "fatally flawed" model, as it inherited the debt for hosting the Games, he believes. It has, Mr Sharman says, an "impossible job".
"They were charged with developing the area, and maximising the land value of it, in order to repay the loans and the subsidies," he said.
"So they had two things that are in contradiction, and you can't be both gamekeeper and poacher.
"And that is the fundamental problem."
Follow BBC London on , and . Send your story ideas to