The day of my J-League debut for Nagoya Grampus Eight began with an earthquake where our whole hotel shook… and then we lost 5-0 and I didn't get a kick. It was not exactly a dream start.
Unfortunately, the football side of things never improved much for me from there but, 30 years on this month, I still look back very fondly at my time in Japan.
It was half a lifetime ago for me now, but going there felt like a big adventure - it was the launch of football as a professional sport in that country and to be involved in something new like that is unusual for any player, especially somewhere that did things so differently.
I just wish I'd been able to play more, although there was absolutely nothing I could do about that. It was exciting to be there right at the start and see it take off the way it did, but it was also where my career ended, and not in the way I wanted it to.

The first I heard about any interest from Japan was in March 1991 when Grampus Eight faxed my agent and my club, Tottenham, about the possibility of signing me, but nothing really progressed until June, when I went to Tokyo with Spurs to play in a friendly.
That was the start of discussions which led to me being offered a two-year contract to come and play in the new J-League, which was replacing an amateur league made up of corporate teams - Grampus Eight were formerly known as Toyota Motors, and were still being bankrolled by them.
The opportunity came at the right time because I was already thinking a lot about my future. I was almost 31 and had always wanted to go out of English football at the top, so I was planning to retire when my Spurs contract finished in 1993.
Then the Japanese came in and we thought: "Well, this is something completely different." Obviously it was a big pay-day but I'd always been interested in travelling and experiencing other cultures after playing in Barcelona and this seemed like a really nice way to end my career, in a country that had always fascinated me and would also be safe for my family.
I didn't want to just go gradually downhill in England, which I already felt like I was on the brink of doing because I knew my powers were waning, so it appealed for footballing reasons too. I thought I could go out there and still score a few goals and it all will be really positive.
That was the plan, and the only thing that went wrong with it was when I got injured - although the news we got about my baby son George later that year meant we almost didn't go to Japan at all.

Sometimes things happen very quickly in football, and in life.
In November 1991, I scored the goal against Poland that sent England to Euro 92 and then said I would be retiring from international football after that tournament. The following week, Tottenham announced I would be leaving them in the summer of 1992 as well.
I was getting my wish to bow out of English football at the top and was moving to Japan for a transfer fee of just under £1m, in time for the start of the J-League's launch season in May 1993.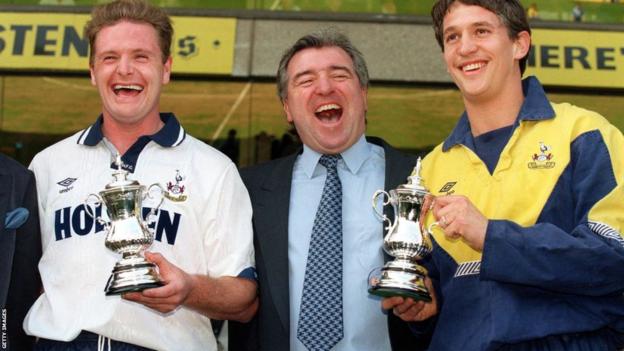 It was all official, and very exciting. Then, only a few days later, everything changed.
We were told that George, who was just a few weeks old, had acute myeloid leukaemia. He'd had a problem with a few lumps and at first the doctors thought it was a skin complaint. In fact he was seriously ill with an extremely rare condition and did not leave Great Ormond Street Hospital for the next seven months.
Football, and everything else, was suddenly on hold, and it was a massively tough period for myself and my wife Michelle. George needed five solid courses of chemotherapy and a couple of times we were told that he wouldn't make it through the night.
We didn't even think about Japan for a long time. George was the only thing that mattered and, eventually, he began responding well to his treatment.
When it got to the end of the 1991-92 season and I said goodbye to Spurs, and to English football, George went into remission at around the same time. We had another eight months or so after that before the J-League started and it was during that period that he came home, but it was only probably at the beginning of 1993 that we were absolutely sure we would be able to go to Japan.
People often say prematurely that, when someone has finished their treatment for leukaemia, they are cured, but that's not the case - being in remission is very different. As the medics will tell you, you are not cured until you reach five years, post-treatment, without a relapse.
So, when we moved to Japan, George had to have tests every two or three weeks to make sure his blood count was where it should be. It was still a very concerning time but we knew the way they treat leukaemia is the same globally, and that his treatment over there would be first class.
We were very lucky in that he stayed in good health and made a full recovery. Still, I know that if George had been ill a bit earlier, when we were making the decision about going to Japan, we wouldn't have gone.
Equally, if he'd fallen ill six months later, in that period where we were just about to go, then we wouldn't have left the UK either.
But the fact we had this cushion of a few months, post-treatment, meant we had a chance to see how he got on. It gave me time to learn the language too, or at least try to pick up enough Japanese to get by.

When we arrived in Nagoya, which is around 160 miles south-west of Tokyo, in March 1993, I could tell a taxi where to go, or ring up and book a table in a restaurant and order a meal - but I couldn't sit down and have a proper conversation with someone. I'd found understanding it far more difficult than Spanish had been.
That didn't really affect things football-wise, because there were always translators around the team. Otherwise it would have been tricky, but what tends to happen in language anyway is that you learn most of the words you need for your particular walk of life, whatever job you are doing, so I picked up all the footballing terms very quickly.
A lot of them were quite anglicised anyway - offside is ofusaido, good save is naisukipa and good shot is naisushotto. You heard that last one all the time and it used to make me chuckle sometimes, because hearing it spoken in a Japanese manner was quite amusing.
There were a few players at Grampus Eight who spoke excellent English too, like our Dutch keeper Dido Havenaar, who was a lovely guy and became a good friend. But, apart from a few Brazilians, there were not many other foreign players at any of the teams.
That was because the Japanese had learned from what happened in the United States and Canada the first time they tried to launch a professional league in the 1970s, when the North American Soccer League was overwhelmed by imported stars and only lasted a few years before folding.
Instead, Japan only picked a few big-name players - myself, Brazil legend Zico and Germany's World Cup-winning midfielder Pierre Littbarski - to sign up and publicise it, which was very sensible. Planning everything meticulously is seen as a Japanese trait, and they did that with everything around the J-League too.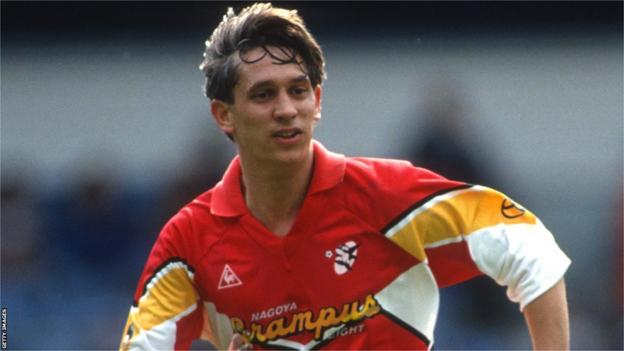 They started off fairly small, with only 10 teams in that first season, but the model for marketing and fan engagement was based on established American sports like baseball and American football. They did all of that in a big way because they knew if football was going to catch on then it had to be as entertaining as possible.
So, the emphasis was on fun, with face-paint, huge flags, fireworks and loud music before games plus stacks of merchandise and team mascots - we had Grampus-kun the dolphin, one of the symbols of the city of Nagoya that the team was named after.
It was all very noisy and colourful and nothing like anything I'd seen before, and the way the fans behaved was really refreshing too. Everyone was always extremely excited but they were all respectful and positive, and there was none of the abuse you might get as a player at an away ground in England.
Instead, the atmosphere was more like going to an England schoolboy international, with mainly young people in the crowd, lots of female fans - which was great to see - and screaming. Lots and lots of screaming.

The screaming didn't just happen at games, either. In fact, we were mobbed everywhere we went. It was crazy, really. I always signed as many autographs as I could when I was a player anyway but there was much more demand in Japan.
Again, they were well prepared. I remember the fans always carried white boards for you to sign your name on, and they always had a marker pen too.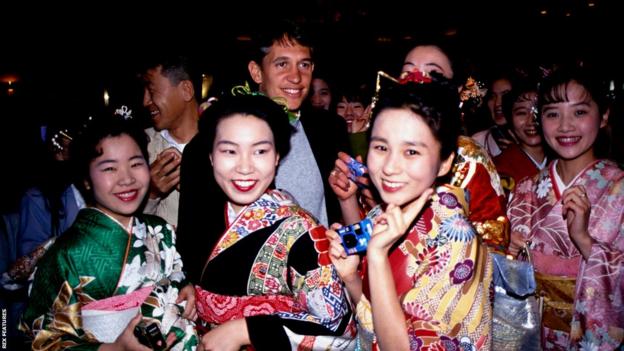 The way they were marketing the J-League meant I also did lots of Japanese TV commercials, which were fun. Whether they were for cars, banks, soft drinks or anything else, I think every single advert I did involved an overhead kick, which they seemed to be obsessed with at the time. I suspect it's moved on a bit since then, but there are probably a few Japanese people who grew up wrongly thinking that was my signature finish.
Everywhere you went, the game was booming and the level of interest was incredible, especially when you consider how tiny it had been in Japan even just before the J-League started. Baseball was the big thing, but football was also behind rugby and all sorts of their own sports, like sumo wrestling, in terms of popularity.
Their mission had been to change that and, because it was a completely new sport, they were able to innovate to cater for their target audience, which was people under 30. For example, they introduced sudden-death extra time and penalty shootouts to decide J-League matches.
Draws are part of our game, so for me that part was a bit strange, but I understand why they did it and, overall, everything they tried seemed to work. Every game was completely sold out, including our first one, which was away at Zico's team, Kashima Antlers.
We weren't a very good side, which became more and more apparent as the season went on, but that was probably the worst game I played in and it was certainly the most one-sided. Zico had just turned 40 but he was absolutely unbelievable that day, with a brilliant hat-trick including a superb free-kick into the top corner.
They absolutely hammered us and I don't think I got a single chance in front of goal, which was annoying to say the least. That lack of service continued to be a problem and I only scored one goal in my first six games, but far worse was to come.
I had gone there to promote the league as much as to play in it, which was just as well considering what happened.

I'd first injured the big toe on my right foot playing for Spurs halfway through my final season in England. It was towards the end of the second leg of a European tie, we were comfortably ahead on aggregate and I'd been playing a lot of games for club and country so I'd asked Peter Shreeves to take me off for a rest.
He kept saying "give me two more minutes" and that turned into five minutes, and then 10. A ball was played through and I thought I could just nick it ahead of the keeper, and I did… but, as I slid out, his foot came through and crushed my toe.
I played for the rest of that season, in constant agony I have to say, and on pain killers to get me through it. Then I had an operation in the October before I headed out to Japan. It didn't improve things much but I was able to trundle along in training and get through matches - I played the first few games of the J-League season.
But I was starting to get shooting pain in the toe next to it, which felt weird. I mentioned it to the club doctors and they did some X-rays but they said they couldn't see anything. They just said it might be a damaged tendon or something, and that they would give me a little injection to play.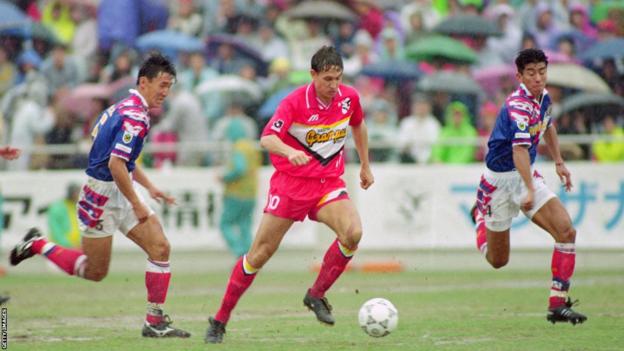 So, for the next game I had a pain-killing injection in it and I was fine for about 40 minutes or so but then my entire right foot just kind of went into spasm. There was no pain but it clenched up, like a claw.
It was the weirdest sensation I'd ever had but I made it through to half-time and I was sitting in the dressing room thinking: "What the hell is this about?" It didn't take long to find out.
Just before we went out for the second half it started to hurt, when I got on to the pitch there was more pain and then pretty quickly I was in absolute hellish agony and I had to come off, on 46 minutes.
I went to the hospital for some more X-rays and it turned out the toe that they had just injected had actually snapped; it was completely broken and the bone had to be screwed back together.
The next day or so, I went back to the club doctor and asked if they still had the X-rays they had taken the previous week, because I was sure I'd seen something then but had thought to myself: "What do I know? I'm not a doctor."
I looked at the X-ray and said: "Do you see that? What do you think that is?" He went "ah yes, maybe this is a stress fracture" and I went "oh my god". I should never have played with that.
I was out for three or four months and, as soon as I came back, the old injury - my big toe - started hurting really badly, more than it had been, because the other toe next to it, the one that snapped, had healed in a weird way.
It meant I couldn't play at all, and I was given the option of stopping there and then or trying another operation, this time in the United States, to reconstruct it, then eight months of recovery to play the final few weeks of my contract.
I went for the latter. I was loving my life in Japan and I thought I wasn't quite finished as a player yet.

I've always felt I had let Grampus Eight down when I couldn't get myself on the pitch, even though I couldn't do anything about my injury, but I will always be grateful for how incredibly patient and understanding, and supportive the club were.
That period of my career was incredibly frustrating but there were positives too, because it helped me move on and accept my time as a player was over. The fact that I was constantly in rehabilitation for so much of my two years in Japan gave me the urge to start a new life.
It wasn't like I just stepped away from football one day, like some players do, and it ended like that, very suddenly. Instead, it was gradual and by the time I did finish and come home, at the end of 1994, I was desperate to do something different. I'd already begun my media career by working for the BBC at the World Cup earlier that year, so I knew what was coming next.
A few people in England had asked me to give it another go as a player, including my old England team-mate Bryan Robson, who had just taken charge at Middlesbrough in what is now the Championship, but I just had to hold my hands up and tell them: 'I can't play.'
There was just no way I could have competed in the Premier League or even the second tier here. My big toe had been screwed together and the joint had fused solidly, and I was still getting used to that.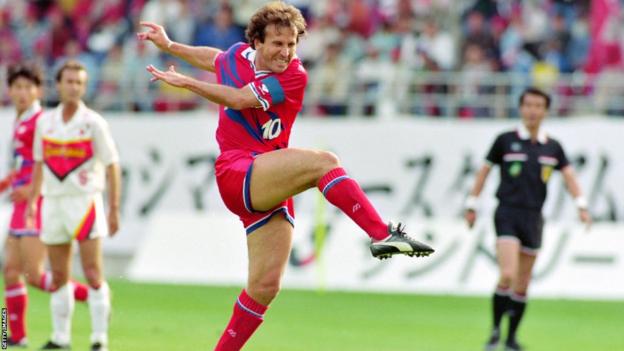 I can walk and run absolutely fine now, but at the time it still felt very odd and running wasn't easy. I could not get off the mark very quickly at all so I had lost that yard of pace that was essential to my game. I would not have been very good, and I did not want to carry on if that was the case.
I did manage to play a few times more for Grampus, including one final appearance right at the end of my second season but by then I could hardly move, even with the help of more pain-killing injections.
They gave me a lovely send off, turning all the lights off in the stadium at the final whistle and putting a spotlight on me on the pitch before I got a standing ovation.
I couldn't play the 90 minutes, sadly, but it was still a special moment because it is probably the only game that my kids ever saw me play - well, two of them anyway - not that they will have any memory of it. George was two by then and Harry just a few months old.
Because it was my final game in Japan, Michelle had brought them both along and that turned out to be my last game full stop. I kicked a ball around with my sons when they were growing up but I've not played another game since, not even five-a-side or anything, ever.

When it started, there was a risk that it would just be a fad but when I look at Japanese football now, I see a success story that began 30 years ago and continues to grow to this day.
The J-League has expanded so it now has 28 teams in two divisions and continues to be hugely popular with fans, but the game there has progressed in many other ways too.
Their players were technically sound when I was there, and always worked very hard, but they had only just turned professional so you could understand why they were maybe a little fragile mentally, and lacked the tactical awareness or toughness you saw in more established leagues.
That is certainly not the case now. Their top players are in demand, globally, playing at clubs all over the world and helping the international team make a real impact as well.
Japan co-hosted the 2002 men's World Cup, which was another of their aims when they started out, and the men's national team has played at all seven finals since 1998, after failing to qualify once before then. Their women's side is currently the leading side in Asia too.
I played no part in any of that success but it is great to see because I still have a real affinity with the country and its culture, and so do my family. Harry was born there and we still call him Harry chan now, which is a Japanese term of endearment.
He is very proud of his connection with Japan and it means a lot to him - when Leicester won the Premier League in 2016 his favourite player was Shinji Okazaki and he wore his shirt every time he watched a match.
Our neighbours in the little apartment where we lived in Nagoya had ended up becoming his godparents, and last year he went back to visit them, and go back to his roots.
My favourite memory of my time in Japan has to be the day he was born, which is quite a story.
It was about two weeks before Michelle was due and her mother had come out early to stay with us.
I had just finished playing golf and someone at the club told me I had a call. It was Michelle and she said she thought she'd started having contractions. I said: "Right, I'll come straight home," but she said: "No, no, you know it will take ages so don't rush."
So I had a bite to eat before heading home but when I got there, Michelle wasn't there, just her mum, with George. She said: "She's had to go, it's all happened very quickly."
I thought "oh no" and jumped in the car - it was about a 40-minute drive to the hospital and I thought I might have missed everything.
When I got there I was about to run inside when two nurses saw me and said: "Lineker-san, Lineker-san, sutoppu, sutoppu!" - telling me I had to stop.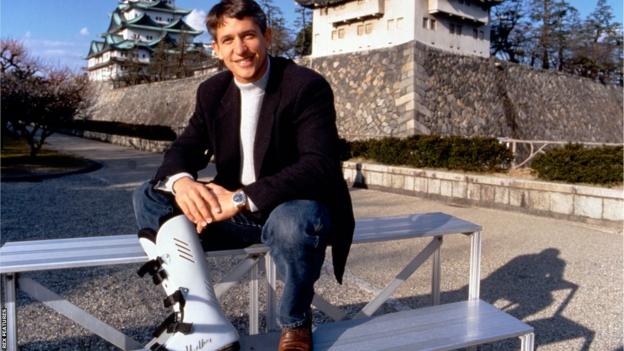 I was like, "why sutoppu!?!" and they said: "Shoes!" I went "shoes?", and they said, "change shoes, put on slippers," so I rushed to put these slippers on and they were always too small in Japan, so I was awkwardly shuffling along while still moving as quickly as possible.
I made it to the maternity unit and there was a big glass door. I could hear Michelle behind it, screaming in agony in labour, so I went to go straight through… and some more nurses shouted "Lineker-san, sutoppu, sutoppu!"
Again I asked: "Sutoppu? Why sutoppu now?" and they said: "Slippers." I said: "I've got slippers!" and they said: "No, change slippers. Different slippers."
Anyway I threw them on and dashed in and saw Michelle there and, less than 20 seconds later, the baby came out.
As a striker, you always have to time your run, you see, and I guess you never really lose it. I didn't do it very often in Japan, but I still managed it when it really mattered.
Gary Lineker was speaking to BBC Sport's Chris Bevan.