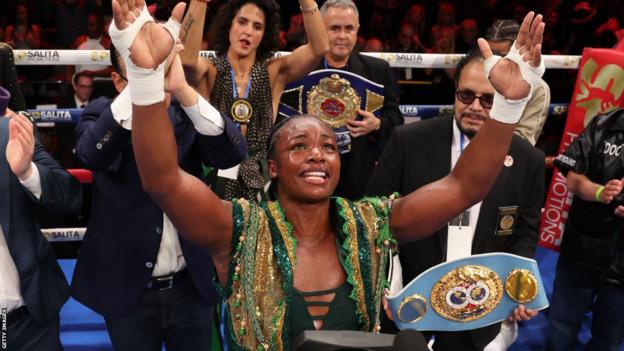 This article contains references to contains references to rape and child abuse. If you have been affected by any of the issues raised, visit
"Dirty water ain't gonna stop us putting on those Gucci clothes."
Claressa Shields is walking around her hometown of Flint, Michigan.
Barking dogs are the soundtrack to a stroll down a street that bears the name of the two-time Olympic gold medallist, and undisputed middleweight world boxing champion.
As she walks, Shields, who some regard as the best women's boxer of all time, is shouted congratulations from all sides of the road.
The 28-year-old is a legend in Flint - a city that needs a hero, advocate and spokesperson more than most.
The original home of General Motors, Flint was known as Vehicle City, but as the American motor industry declined, so did the city's fortunes.
Flint's population is now half what it was in its 1960s heyday and, as people have left, their tax dollars followed.
A 2014 cost-cutting decision to switch the city's water supply from Lake Huron to the Flint River - polluted by decades of heavy industry - had disastrous consequences, exposing its people to lead poisoning and turning tap water
The city's drinking water but the city itself is still not, with
Shields keeps walking, and talking, as she drops in the Gucci analogy. It could sound flippant if it wasn't entirely in keeping with the American's zealous insistence that her life's low points are to be channelled.
She believes her harrowing history - explained, named, and put out in the open - can help others.
Flint's water crisis was far from Shields' first challenge.
"At first, I thought my purpose was to be a great boxer. But God wanted me to be a great boxer and to tell my story because it's going to save so many lives," she says.
Shields is a natural storyteller. She has the words, the stories, the confidence. In a week filming for the tales just fall out of her.
She can trash talk with the best in the world - high praise in boxing, a sport which values running your mouth as much as running the show in the ring.
But, unlike a lot of her counterparts in both women's, and men's boxing, her narrative has depth. Unspeakably dark depths.
An extended period of sexual abuse began when Shields was just five years old.
"I've had to work harder than a lot of people to get to where I am," she says. "I don't know people who could have been in the same situations and get to where I've made it to…
"I'm talking about from the age of five, when I was raped as a young girl to, you know, having to deal with all the anger I had from that.
"I had a speech impediment, I couldn't even talk till I was about six and I stuttered till I was nine.
"Flint has built that no-quit attitude in me. I remember being a kid and this girl chasing me home from school. I ran in the house and my mum was like, 'What's going on?' I'm like, 'These girls are trying to fight me'. And she was like, 'Tomorrow when you go to school, you better fight every last one of them!'.
"And so I went to school the next day and I fought a girl at school and then I fought these other girls on the way home from school and everyone just knew don't mess with Claressa."
That lesson of fierce self-sufficiency was a constant for Shields. Her father went to prison when she was two and was only released when she was nine. Her mother was an alcoholic and Shields has spoken of her mother's intermittent unexplained absences, and the constant scratching around for money.
She remembers sacrificing meals so her siblings could eat.
"Getting ready for the [London] Olympics I was growing up still in poverty," she says. "I was 16 years old, living with my mom, me and my siblings, and you know she didn't have it together.
"So we had a place to stay but we were still having to go some days hungry and I didn't have a bed to sleep in.
"That's one thing I did when I won the Olympics, first thing I did was bought me a bed."
But, despite those early experiences, Shields' overwhelming message is to lean into hope, not despair.
"There's so many kids that are going through similar things I went through," she says. "And they feel hopeless.
"But God wanted me to use my story to tell them. So they can see. Look I made it, you guys can too.
"I wouldn't wish what I went through on my worst enemy, that's how bad it was, and I have a few enemies."
One is Savannah Marshall. The Briton is the only person to beat Shields across her 12-year senior career, both amateur and professional.
That defeat came at the 2012 World Championships in China, a loss followed by an unbeaten decade - and an act of revenge in October 2022 when
Shields defended that , taking her pro record to 14-0, and has been clear about her feelings regarding a Marshall rematch next year: Yes, but only on US turf.


A week in the company of Shields is filled with laughs, lovable bravado and endearing showmanship - by her own admission she has the "gift of the gab as well as the gift of the jab".
"If there's a girl who thinks she can beat me, she better wake up and stop dreaming," she says.
It's also a week filled with juxtapositions. Big-fight bling and glee mixes with discussion of the complex, difficult issues behind the poverty of opportunity in her past and Flint's present. She's happy to celebrate and advocate for her female boxing compatriots, while also trying to beat them up. Her only unequivocal words are saved for Marshall.
"I really love all women fighters," she adds. "Because we are all fighting the same fight and we can't do it without each other.
"Even after the fight [against Cornejo] I had so many good things to say about her and I wanted to send her off with some advice for her future fights. I do that with most girls. The only girl I haven't done that with is Savannah Marshall because she's not deserving of it. She's a B word."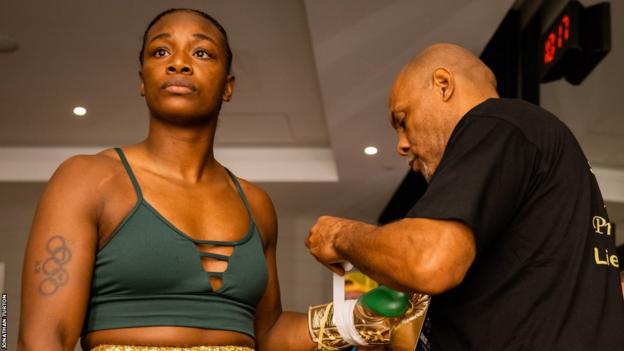 "She was probably one of our better students," Shields' first coach Jason Crutchfield told in a moment of serious understatement.
Crutchfield found in Shields a hurt kid. "I had bad anger issues he can tell you," Shields admits. "There was a bit of attitude," Crutchfield says. "It was surprising to me for her to be able to listen and execute the way that she did."
That anger and accuracy took Shields to London 2012 and Rio 2016 gold and two undisputed world championships.
It's a journey that is inextricably linked with Flint and everything that happened to - and in - that town while Shields was growing up.
Flint defines Shields. But her experiences there don't define her outlook.
"Don't let it be that because you got raped, now you hate all men, you're angry your whole life and keep blaming this person for what they did to you," she says.
"It's like, that makes them the victor you know, but they're losers.
"I always think about the guy who attacked me when I was younger.
"He couldn't even break a five-year-old mentally.
"He attacked me, he abused me and I still turned out to be all right. It gotta suck for him."
And with that, the cameras are off, and Shields is off too. But not before one final statement.
Predictably, over a week of conversations, interviews and memories, it is Shields who sums up best the result of her 28 years so far.
"There is more to Claressa Shields than just being the loudmouth American," she concludes.
There sure is.